Vintage bedside tables - wooden tables, chrome tables...
You are in the category of bedside tables. You can find there wooden bedside tables, decorated with inlays, carving, turning columns, but also bedside tables made from different materials. You come into your own, whether you are looking for antique bedside tables restored or unrestored and also replicas of antique bedside tables. In case that you are looking besides bedside tables for other kinds of antique furniture and other antiquities, we recommend you to visit other categories on the website czech-antiques.com. There are bedside tables offered by stores or individuals from throughout the Czech Republic.
...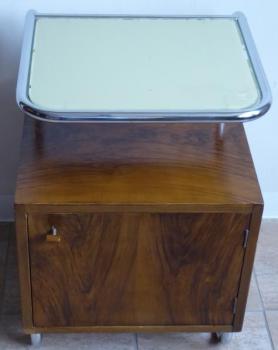 Metal tubes, glass, wood. Metallic top, back and bottom. In the middle, a...
96,- €

Number of items: 13